Frequently Asked Questions    
 Subjects covered on this page:
What Samples should I try?       Application Tips         Eye Liner Tips          
Ingredients Lists              Shelf Life 
What is the SPF of the foundation?      What to do with the leftover samples
Q: How do I decide which samples to try?
When choosing your samples, here are some things to consider. Some are obvious, some may not be. If you would like help, you can email us with the list of your answers to the questions below, and we can narrow it down for you!
- What is your hair and eye color? 
- Would you say you have a fair, light, medium, tan, or deep complexion?
- What single color do you think you look best in?
- What types of color combinations do you like to wear usually?
    - Black, Grey, Deep Browns, White
    - Deep Purple, Fuchsia, Deep Blues, Black
    - Light blues, pinks, 
    - Deep, Bold Warm Earthy tones - deep oranges, browns, greens, cream
    - Light Warm Earthy Tones - beige, peach, cream, etc
    - Or any other color combination?
- Look at your wardrobe; think about what you feel you look awesome in. 
    - What colors are those? (Be detailed – are the colors are light or dark, muted or intense?)
- Think about your personal style in general. (This is more to help with choosing lippies, shadows, and blushes.) Do you like to stand out in a crowd? Or do you prefer to be more understated in your appearance? Do you like classic styles? Funky styles? Current trends?
These questions are a little redundant, but sometimes approaching the same general question from a different angle can spark different answers, so it helps people become more aware of their color choices. Others can just look at one of the questions and know exactly how to answer it.
For instance, if you know you look amazing in orange, but usually wear black and white because you like it, I'd point you toward warm-toned products. If you look fabulous in purple, but usually wear black and white: I'd recommend cool-toned products.

Here's a biggie: In the past, when you have tried foundations that did NOT work for you color-wise, what was wrong with them? Too yellow? Too orange? Too pink?

Do you have any particular thing that you want to cover? Blue or brown under-eye area? Redness? Blemishes? This will help you decide if you could use a concealer or corrector, and which will be best for you.
Your goal with a foundation should be to make your face appear to belong with your body. Your face should be very similar to your neck and upper chest, because that's what's closest, and that's what's going to make you look weird if it doesn't go well together. 
You can tell you're using the wrong shade for your complexion if you feel like you want to put foundation on your neck and chest to make them the right color. They are already the right color. It's your makeup that's wrong.
Make sure you don't just look in a small mirror just at your face. Stand back and look at yourself in a larger mirror, paying particular attention to the colors of your face, neck and chest, and how they look compared to each other. Also, chances are, your bathroom lighting is going to be the worst for testing color. (Unless you have a big skylight. Then you might be okay.)

I also recommend using blush when you're doing this color test, because if you appear all pasty because of muting your natural rosiness in your cheeks, you will be drawn to using a foundation that's too pink for you. Nobody wins when they use a too-pink foundation. :-)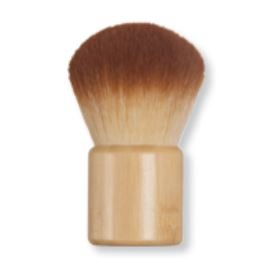 Q: How do you apply Mineral Makeup to get the best, most natural looking results?
Learn from Jo's mistakes: "I had one new customer give some feedback that our foundation was too heavy for a natural look. I'd like to address that, because the first few times I used Just Pure Minerals foundation, it was too heavy on me, too. I was accustomed to other, lower quality brands, so I was using too much. I was also using the wrong kind of brush, so really, there was no way to get it right anyway. It was a lovely, fluffy brush, but truly useless for applying foundation. 
"It took a little practice (and a real kabuki brush) for me to finally get the right amount on my face. That's because our foundation has a higher concentration of the opaque ingredients, and less of the mica fillers, than other brands. You can use much less of it! It's amazing how little it takes to even out your skin tone and texture."
Here are a few tips on how to use it properly:

Before starting, clean and moisturize your face. Let your moisturizer absorb completely before you start to apply your makeup (15-20 minutes)

Tip a very small amount of foundation out onto a piece of paper or into the lid of your full size jar.

Touch your kabuki brush to the powder to pick some up. Swirl it around on a piece of paper to distribute it throughout the brush. (You shouldn't be able to see any area of the brush that has a heavier concentration of powder after this step.) You can also tap the brush to around on the paper to get the powder to spread out.

Focusing first on areas that need the most coverage, apply the foundation in small circles on your face. Repeat these steps 2 or 3 times until you have applied a small amount over your entire face.

Look at your nose, or any other area where you may have visible pores. If the foundation has just hit the high spots, and your pores are still visible, swipe a finger over the area to blend it in. (Note from Jo: This is where I went wrong at first - I would add more foundation to fill in the pores, and would end up with too much on! Learn from my mistakes, sisters!) 

Always start with the lightest amount of coverage and step back and take a look at yourself. See if it's enough before adding more. Build slowly. You'll get the hang of it quickly, and you'll get to the point of being able to do it pretty much without a mirror. But while you're getting used to this quality of foundation, take it slowly.

Using a smaller concealer/eye shadow brush, apply more foundation in small areas that are hard to reach with the kabuki - by the nostrils, under the eyes - and over any other areas that need a little extra coverage. For more serious coverage, you can use a concealer or corrector.

Apply blush with a blush brush (don't use your kabuki, unless you want your whole face to be pink next time)

You can use a mineral veil or setting powder over everything, or under your blush. If it's under your blush, you can use your kabuki brush to apply it.  Use a different brush if you use it over your blush, so you don't make your Kabuki all blushy. As previously mentioned, nobody wins with a too-pink foundation.

 If your skin, overall, is clear and even-toned, or if you just feel like keeping your makeup lighter, you may want to skip the whole foundation part. Use a concealer brush for specific areas with a foundation or a concealer, then use a mineral veil or setting powder to even out the texture of your skin.

Used correctly, mineral makeup gives the most natural, beautiful results of any makeup. It may take a little practice if it's new to you, or if you haven't yet achieved the results you've wanted. Once you get the hang of it, you'll never want to go back to any other kind of makeup.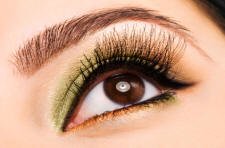 Q- I've never tried powdered eye liner. How do I apply it?
Tap some of the powdered eye liner into a separate container,or the lid of your liner jar, then simply wet the bristles of your angled eye liner brush, dip into the color, mix into an inky paste in the container and apply. The liner brush can make thin or thick lines as you adjust the pressure. Add more or less water to your inky paste to adjust the intensity of the color.
Q- What are the ingredients in Just Pure Minerals' products?   
Foundation ingredients: Mica, titanium dioxide, zinc oxide, iron oxides.

Setting Powder ingredients: Mica, titanium dioxide, kaolin clay, iron oxides

Mineral Veil ingredients: Mica, titanium dioxide, iron oxides

Blush ingredients: Mica, titanium dioxide, iron oxides. Some shades may contain one or more of the following: manganese violet, ultramarine violet, chromium green oxide, and/or ultramarine blue.

Eye Shadow/Liner ingredients: Mica, iron oxides. Some shades may contain one or more of the following: ultramarine violet, ultramarine blue, manganese violet, ferric ferrocyanide (greens), chromium green oxide.

Lipstick and Tinted Balm ingredients:  Ricinus Communis (Castor) Seed Oil, Persea Gratissima (Avocado) Oil, Jojoba Oil,   Euphorbia Cerifera (Candelilla) Wax, Copernicia Cerifera (Carnauba) Wax, Sunflower Wax, Japan Wax, Peppermint Oil, Vitamin E  (Shades may contain mica, iron oxides, titanium dioxide, and/or manganese violet, depending on the color.) 

Lip Gloss ingredients (original version, still available): Versagel 750 ME (Hydrogenated Polyisobutene (and) Ethylene/Proylene/Styrene Copolymer (and) Butylene/Ethylene/Styrene Coploymer), jojoba oil, fractionated coconut oil, peppermint oil, iron oxides, titanium dioxide, mica, natural soy-derived vitamin E. Some shades may contain one or more of the following: manganese violet, ultramarine violet.

NOTE: The original gloss is the only product we have that isn't all-natural. (It is vegan, though.) We have the tinted balms as an all-natural replacement for the gloss for those of us who prefer using all-natural products.

Q- What is the shelf life of JPM products?
The powders should last years. There's nothing in them that will feed bacteria. If you keep them closed tightly, store them in a dry place, and make sure you're not dipping a dirty brush into them, they'll be fine. Your brush may leave behind traces of skin oils and dead cells, moisturizer, and whatever else it has come into contact with. The best way to avoid that is to clean your brushes often, and to shake your powder into the jar lid or onto paper before dabbing your brush into it. (If you use the lid, wash that every once in a while too.) Your makeup will be fine. You should never have to replace any of it. It's the brushes you need to be wary of! :-)
Other types of natural products have more of a problem with a shorter shelf life - lotions, anything liquid, lipsticks, etc. If they have water in them, bacteria is able to grow in them, unless there is a preservative of some kind added. Also, the oils in these products will oxidize over time.
There is no water in JPM lipstick, and we add vitamin E to the lipsticks and other lippies to keep the oils fresh longer, but they will eventually start getting funky as the oils in them oxidize. They won't hurt you, but they will smell icky after a year or two. Maybe longer. I have one that I know is well over two years old, because it's the only one I made for myself in this color, and it's still good. (Always keep the lids on lippies - the less air on them, the longer they will last. It's the oxygen that oxidizes the oils.)
NOTE: If you live in a very humid area, or if you keep your lippies in a bathroom that stays humid most of the time, you may want to dab or spray your lipstick or balm with some alcohol periodically, and let it air dry. Mold spores thrive in moisture. There's nothing in the lippies to encourage mold to thrive, but humidity itself can create an environment that is moist enough for mold to grow. Just Pure Minerals does not add anything fungicidal to the products, because of the health concerns for those of us nibbling at our lipstick all day long.
Boise, Idaho, home of Just Pure Minerals, has a dry climate, and I've never once had mold on my personal JPM lipsticks or balms. But I do have one customer in Washington DC that had something appear to set up housekeeping on her balm. It's very humid there in the summer. I did some research, and the alcohol solution was what was recommended by others who had experienced this issue with other natural balms.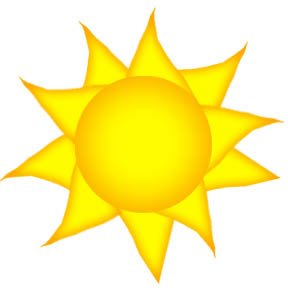 Q- Does JPM foundation provide protection from the sun?
We have not had the foundation tested, so we don't have a specific SPF number. Another major mineral makeup company has an SPF 30 sunscreen product that has 12% Titanium Dioxide as it's active ingredient. They also have an SPF 15 foundation (their original formula) that says it has 12.6% titanium dioxide, and 21% zinc oxide. Maybe it has a lower SPF despite the higher concentration of active ingredients because they think you won't use it as heavily if it's on your face as a makeup product.
Our foundation has somewhat more titanium dioxide and zinc oxide than theirs. The percentage does vary, however, depending on what shade you buy. The deeper the shade, the higher the percentage of non-white pigments, which lowers the percentage of the zinc oxide and titanium oxide.
That said, an SPF number for foundation isn't all that useful, since everyone uses a different amount - even on different areas of their own faces. When labs test products for SPF, they are estimating the amount a person will use. Or they are assigning a recommended amount for a person to use. Either way, it's not an accurate representation of what you'll actually use, nice and evenly, all over your exposed skin of your face. It's still a good idea to use a sunscreen under your makeup, so you know you're covered. (Don't forget your neck, ears, etc. that you won't have makeup on!)
Here's a link to a website that has lots of information on which brands of sunscreen are safest and most effective, and on specific ingredients to avoid because they are actually harmful when exposed to the sun. http://www.ewg.org/sunscreen/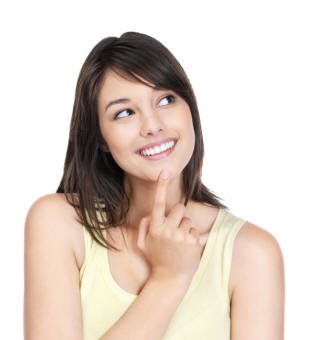 What To Do WIth Samples That Aren't Quite Right
Just Pure Minerals products are more than they appear to be... This is especially welcome news when you have purchased a pile of samples to find your perfect shades, then have a bunch of leftover stuff that isn't quite right for their intended purpose. Don't toss those samples! They are still great for lots of OTHER purposes! (This doesn't just apply to spare samples you have lying around - all the products are multi-purpose. But you know how we LOVE to find a way to avoid wasting stuff!)
~ Have some foundation samples that aren't right for your whole face? If some of them were a little too yellow or light, they will make a good blemish concealer. (Don't use one that's too pink for this purpose.)
~ If a foundation is too light and orangey on you, it might be good to neutralize your blue under-eye circles.
~ Got a foundation that was too dark? It will be great in your crease when you're creating a nude look with your eye shadow. 
~ Use a too-light shade or a concealer for your brow bone and lid. (Example: I frequently use Olivia Tan in my eyelid crease, and Wheat Concealer as a highlighter.)
~ Any foundations, mineral veils, or setting powders are great for a base for your eye shadows. Setting powders, in particular, are good for absorbing oils if you have an oily lid problem.
~ Concealer is an awesome highlighter. Use on your brow bone, right under your eyebrows. You can also use a concealer (or a too-light foundation) and a deeper foundation shade to highlight and contour your whole face.
~ Look online for contouring tips. YouTube has some good tutorials. It also has some bad tutorials. Use your judgment. And try to keep it subtle, especially for daytime.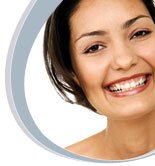 ~ Use blush or bronzer as an eye shadow if it looks good on you... some people look all glowy and lovely with blushy lids. 
~ Use blush on your lips and slip some gloss or balm over it. Soooo pretty.
~ Feel like sparkling for a night out? Use a shimmery shadow like Engagement Ring, Tiny Bubbles, 24K Gold, or Fiery Redhead, either alone or mixed with a bronzer or mineral veil, and use it on your collar bones, chest, shoulders - wherever you want to highlight and add shimmer.
~ Try out eye shadow as a liner. (Like Fairy Princess, Bohemian Chic - any of the medium to dark shades. If you're more fair and/or blonde, lighter shades may look great on you.)
~ Use clear balm on dry knuckles and elbows to moisturize, soften and protect them from the elements. 
~ Natural Brow - It probably won't surprise you that these are great to use as matte eye shadows!