NEWS
After gathering all the tax information I needed to bring to the accountant this year, it occurred to me that I was making things needlessly complicated by having multiple ways to accept credit card payments. So I have decided to have all sales run through PayPal. Unless this has unforeseen consequences that I don't like. In which case I will say DO OVERS!!! and change things back. 
You don't have to have a PayPal account. You can use your regular credit card during checkout in the little PayPal window that pops up. Scroll down to see where to choose that option. 
One of the driving forces behind this change, if you're interested: I can't track sales by state and accurately report things to Idaho about sales tax when using the regular credit card company. Between that and the other hassles of scraping together and combining data, it was making me want to toss myself off a building. A short building. But still - no one wins when I have a rolled ankle. I'd be very cranky. 
If it looks like you need a PayPal account to finish your order, scroll down a bit. They hide the button you need at the bottom of the little window. :-)  Click on that baby and use your credit or debit card.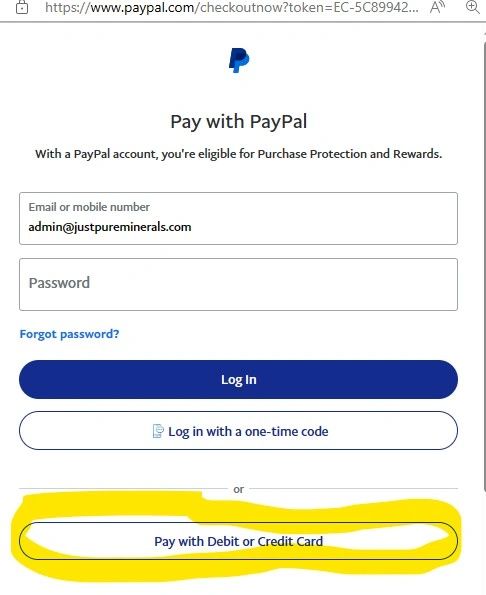 __________________________________________
IN INTERNATIONAL POSTAGE-RELATED NEWS:
The Just Pure Minerals website has stopped offering USPS First Class International Postage. This is something new and very unwelcome, not my choice at all. The USPS Priority International costs 3+ times more. 
There is a workaround that will allow us to still ship First Class... since USPS First Class is still a thing that exists (for some countries, not all - see message below)
Here's whatcha do:  
- Go through the motions of ordering all the things you intend to purchase. 
- Enter in all your address info, gasp in horror at the Priority postage it suggests, then do nothing with it. 
- Email me at jo@justpureminerals.com and give it the subject title INTERNATIONAL FIRST CLASS PLEASE so it'll get my attention. 
- Tell me you've abandoned your shopping cart and would like to complete your purchase. 
- I'll first verify through my shipping app that USPS will ship First Class to your country, and find out that postage amount.
- Then I'll slip into the site's back office, take a gander at the Abandoned Carts section, and copy the info from your attempted purchase to put into a PayPal invoice for you. 
- Full disclosure: I just did this, and it was way too time consuming. So instead of a line-by-line entry into the invoice, I will just enter the product total plus the postage onto the invoice. Then I'll reply to your email with a link to the the invoice and a screeenshot of your product choices from the Abandoned Cart so we'll all be able to see what the products you're ordering. 
If you're in Canada, where we KNOW that we can still ship First Class, an alternative to all that is to complete your order paying the Priority rate, write to me saying you want it shipped First Class instead, and have me refund any excess postage you've paid. It takes up to 5 business days for the refund to show up on a credit card account.
--------
AUSTRALIA and New Zealand customers:  the US Postal Service had suspended all First Class package service to your countries. I'm not sure if that's still the case. They're not on the current list.
If you are interested in learning the prices for Priority International, write to me at admin@justpureminerals.com and I'll be happy to look it up. I'll need some idea of what you'd be ordering so I'd know the size and weight of the package. 
I can say without knowing details that it would be over $40. Yikes. I know.
I'm very sorry for the inconvenience. Good luck and stay safe. Let's be careful out there. Each one of you is important. 
<3 Jo
____________________________________________________________
ABOUT THE "CHECK COLOR" MESSAGE at the top of the pages - 
Drop-down menus with color choices are great, except that sometimes you're still in that menu when you try to scroll down or up to look at stuff on the page AFTER making your color selection. Sometimes you're still in the menu, and you don't notice that your color choice has been changed. Usually to Alabaster, as it turns out. ;-)  (I may start emailing people who order Alabaster foundation to have them verify that it's the color they want. Heheheh) 
So please take a close look at your order before finalizing the order. Or, if you notice after you've finished, you can write to us at jo@justpureminerals.com and tell us the color you had intended to order. 
THANKS!!! 
-------------------------------------------------------